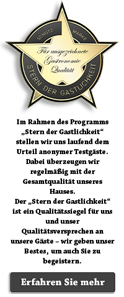 We will be happy to host a party for you!
Whether it's a wedding, christening, birthday, communion, company party, we cater to your requirements.
The chef Florian Simmet places great importance on using regional products when preparing dishes. The numerous regular guests from far and wide appreciate the varied menu with seasonal dishes and classics, like the popular "Schnitzel" varieties. Here you can be certain that the apple fritters are home-made and the fried potatoes tossed in butter taste just like they used to.
Hot food served from 11.30 a.m. to 8 p.m.